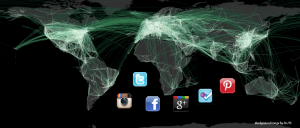 PR and Route Launches in The Realm of Social Media
PR used to be a one-direction highway but with the advent of the Internet and social networking sites, traditional media is no longer the only 'public' that airlines have to factor in for corporate announcements and statements. Today's consumers seek answers directly from brands and scrutinize each statement. While this new reality of social media is not easy to navigate, airlines that can adapt to it can reap new benefits from customer confidence and brand loyalty.
Not only PR, social media is known to enable advanced marketing functions for airlines too.
In the recent Airline Social Media Outlook 2012 by SimpliFlying, over 65% of the airlines surveyed use social media metrics for new products or route development.
The same way social media is used to develop insights into new product and route development, social media can also be harnessed to deliver results for the launch of new routes. With over 20 airline case studies, SimpliFlying is launching a new MasterClass on how airlines can use social media not only for PR, but also to create viral buzz around new route launches. The MasterClass series uniquely merges theory with practice through interactive group exercises, simulations and case studies. Participants walk away with a detailed strategic implementation plan for launching new routes on social media at the end of the class.
Case Study: SpiceJet launches new routes and new planes on social media
End of last year, SpiceJet launched its Bombardier Q400 aircraft for the first time in the India. Besides the fact that the Indian market typically have not been the most keen to fly turbo-props, it was an uphill task as the newly launched destinations that SpiceJet was flying these planes on were not major routes within India. 
Over a period of 6 months, SimpliFlying helped SpiceJet to specifically target niche segments through social media and leverage on a customer-to-customer education model. As a result, SpiceJet achieved 88% load factor for 5 newly launched destinations, all within the first two weeks of launching the Bombardier Q400 in India. 
The MasterClass on Launching New Routes on Social Media features 20 in-depth airline case studies. Find out more from our info sheet or contact us at masterclass@simpliflying.com

The post New MasterClass from SimpliFlying – Social Media for PR and New Route Launches appeared first on SimpliFlying.
Author information