There seems to be no slowing down in the desire for travel companies to launch (or reboot) applications for a population that's increasingly tuned into mobile devices. Here's a look a three new free travel apps—beyond the new JetBlue app we wrote about a few weeks ago—that recently have hit the market.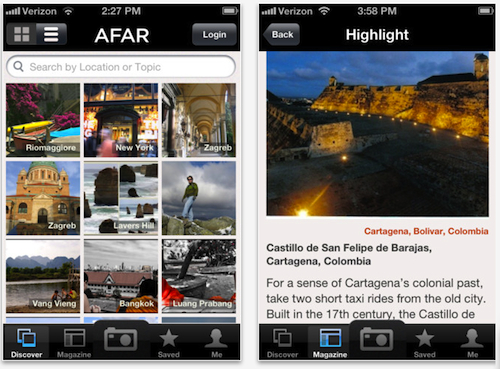 AFAR
The media company with the gorgeous glossy travel magazine that launched in late 2009 recently released an iPhone app with a focus around Highlights. These bits of travel inspiration include a photo, title, description and location of a recommended travel experience. The app launched with 4,000 Highlights, with more being added daily. There's also a contest running through the end of March for users to upload their highlights for a chance to win a trip to India. AFAR says that a version for Android phones will be released soon. Now how about some wildlife photos to inspire me to go on an adventurous safari in Africa?
TravelZoo
One of the earliest travel deal sites on the Internet, TravelZoo has launched a mobile website and added an Android app to join its existing iPhone app offering (introduced in August 2011) for travel discounts and deals. Mobile users can quickly access TravelZoo's traditional Top 20 weekly deals listing, Local Deals, Entertainment Deals, Travel Deals and Last Minute discounts, which is not a category found on the company's main website. The Android app features local deals based on users' detected location. According to Tnooz, 17.5 percent of traffic to TravelZoo.com was already coming from mobile devices. Needless to say, this app is focused more on deals than say, travel photos and guides.
Travelocity
Last-minute deals for travel bookings on mobile devices—especially for hotel rooms—are gaining in popularity. Travelocity already went after this market last year when it enhanced its iPhone app for same-day hotel deals and some local information. The company has now launched an iPad app that offers additional discounts for flights, hotels and rental cars at rates through the app that are better than what's available on the Travelocity website. In addition, app users get daily mobile-only deals. They also can access their Travelocity accounts through the app, which can auto-fill in purchase information to speed the close of the transaction.
Photo: AFAR
Related posts:
JetBlue Debuts iPhone App, New Web and Mobile Sites
Travelocity Upgrades iPhone App Based on Same-Day Hotel Bookings
There's an App for What?