The battle for online hotel booking revenue continues to heat up with today's launch of Room Key, a hotel search engine created by the joint venture of six leading hotel companies: Choice Hotels International, Hilton Worldwide, Hyatt Hotel Corporation, InterContinental Hotels Group, Marriott International and Wyndham Hotel Group.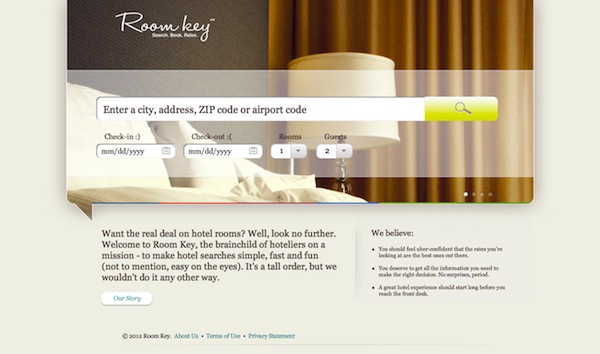 On the surface, there's not much that differentiates this search engine from others, except that naturally the inventory featured is only for the partners' various brands. Room Key's announcement also stressed the promise of "confidence" when using the site, given that customers will be booking directly from the hotel companies and not a third party.
Currently, users can only make bookings, however the company indicated that it soon will add independent reviews and the ability to compare, plan and share information.
Room Key is being led by CEO John F. Davis III, founder of Pegasus, a hotel distribution switch technology which streamlined GDS and Internet connectivity for hotels worldwide and was an early pioneer in online hotel bookings. Most recently he served as CEO of BirchStreet, a provider of e-procurement and purchasing solutions to hotel companies.
The company acquired its technology platform from hotelicopter, which also has an affiliate platform for destination marketing organizations, now under the Room Key Solutions brand.
The launch comes just months after Google introduced its Hotel Finder service and two weeks after several online travel agents (OTAs) voiced concerns about the mega search site listing its own results above competitor sites.
As noted by Tnooz, this isn't the first time hotel companies have joined forced to compete on OTAs' turf. In April 2001, European companies Hilton, Accor and the Forte Group partnered to launch AndBook, and in the United States in the early 2000s, Hilton, Hyatt, InterContinental Hotels Group, Marriott and Starwood introduced Travelweb.
Photo: Courtesy of Room Key
Related posts:
Travel News Roundup: Google Irks OTAs, Foreign Tourist Spending…
TravelTechnology Weekly: Google Hotel Finder, Saving CTP…
Google Flight Unwraps ITA Software