It should come as no surprise that Orbitz, Kayak and a few online travel websites complained this week that Google's new Flight Search tool is taking traffic away from OTAs. Earlier this month, Google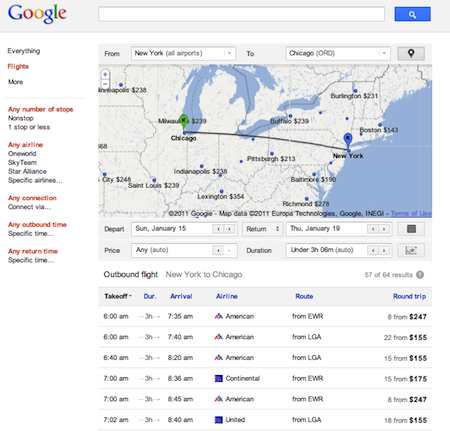 began placing its new search service above general results so that its own results appear above links to major OTAs. Searches also now generate an interactive chart with flight results between desired destinations, but link exclusively to airlines' websites.
The OTAs, which, according to analytic site Compete, depend upon Google for between 10 to 20 percent of their traffic, say the mega search company is reneging on its promise to the Department of Justice—made when the DOJ was doing an antitrust review of Google's pending purchase of ITA Software—that it would make travel data available to competitors.
Even before Google unveiled its anxiously awaited Flight Search, in July the company debuted Hotel Finder, which allows users to choose a city and draw a shape around the area where they want to stay. Concerned about increasing cost-per-click costs, Expedia President Scott Durchslag suggested the hotel industry ban together with OTAs to remain relevant. Read more: Wall Street Journal (subscription), HotelNewsNow.com, VentureBeat
Businesses that benefit from tourism in the United States owe foreigners some year-end thanks. According to new data from the U.S. Office of Travel and Tourism Industries, international tourism spending likely will surpass $152 billion for 2011, up from the record of $141 billion spent in 2008. Through the end of October, foreign visitors spent $127 billion here, while outbound U.S. travelers spent $91.9, an 8 percent increase over the same period in 2010. That makes for a balance-of-trade surplus of roughly $35 billion. Not a bad way to end the year.
But some people are concerned that the expenditures of foreign tourists could be even higher if the government overhauled its visa application process.  Read more: LA Times, Philly.com
Other travel news/roundups of note:
HotelChatter 2011 Awards: Concierge.com's irreverent and somewhat addictive blog shares its list of the best and worst from the year for all things hotel related.—HotelChatter.com
Samoa and Tokelau Skip a Day for Dateline Change—BBC
5 Air Travel Predictions for 2012—ABC News
Most Travel-Inspiring TV Show of 2011: 'Portlandia'—On Location Vacations
Visitors to New York's 9/11 Memorial Top 1 Million—CNN
…meanwhile…
NYC Mayor Says Work on 9/11 Museum Has Stalled—Newsday
Road Travel is Up During Holidays as Fuel Prices Fluctuate—Colorado Springs Gazette
American to Travel Farther and Spend More in 2012—Reuters
Photo: Google Flight Search
Related posts:
Google Flights Unwraps ITA Software
TravelTechnology Weekly: Google Hotel Finder, Saving CTP…
Tourism Outlook: USA Report From Visa Inc.